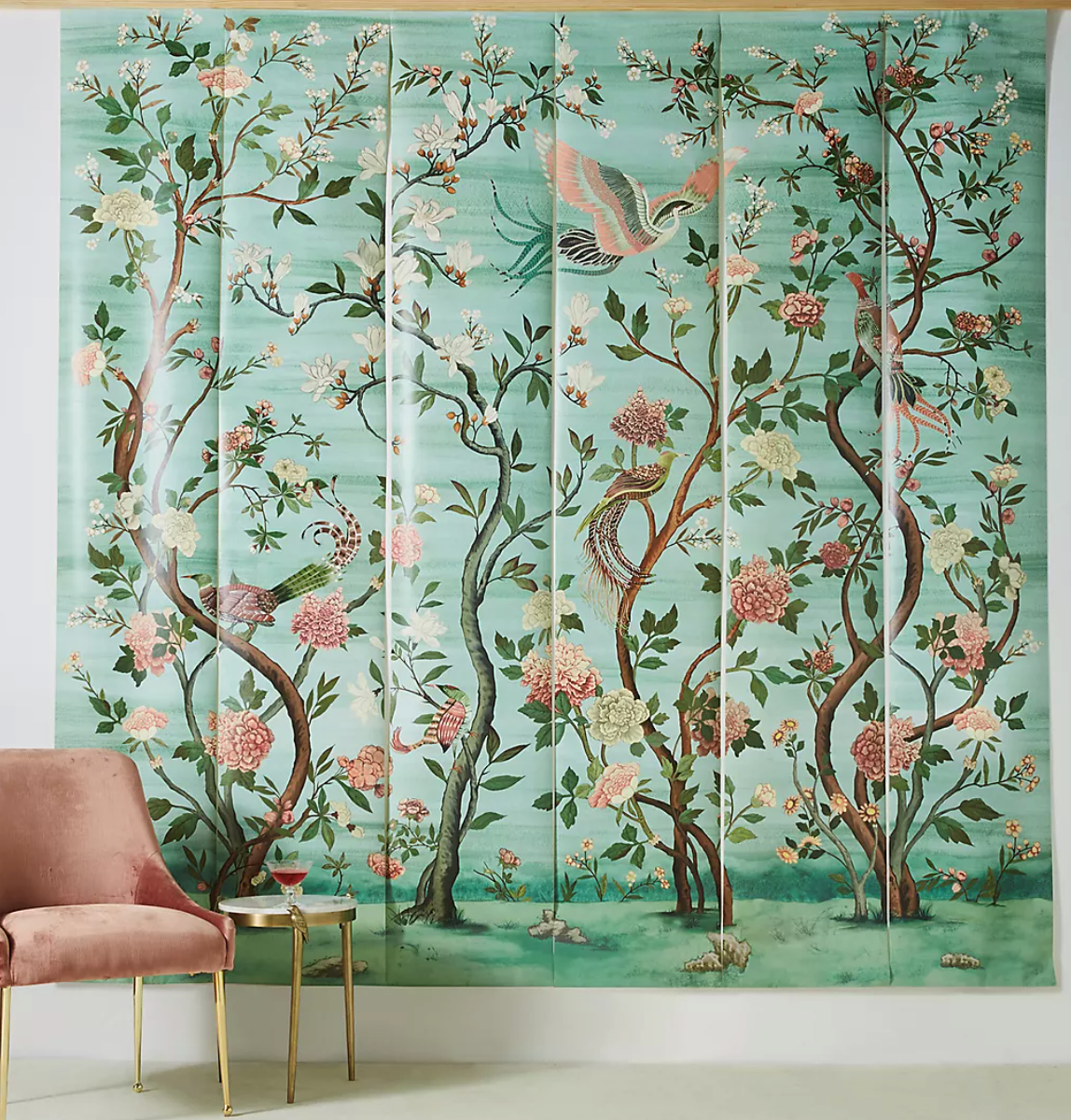 Where to Find Floral Wallpaper in Canada
Birds, flowers and branches are the must-have wallpaper designs of the season.
Shonda Rhimes is the woman behind such must-see TV series as Grey's Anatomy, How to Get Away With Murder, Becoming Anna and Bridgerton. But her latest project that caught our eye — and has us dreaming of a living room makeover — isn't about her TV prowess.
Rhimes recently renovated her apartment in New York and revealed the finished product to Architectural Digest, the bible for all things home. Powerful patterns in the throw pillows, window treatments, gilt mirrors and rugs are a feast for the eyes of the interior design, as is the backdrop: a garden motif wallpaper made by de Gournay.
This line of British luxury wallpaper is best known for its hand-painted designs created by artists in China. Pricing reflects the precision work and expertise, with rolls starting around $600.


We've spotted three similar designs among the wallpaper lines available to order in Canada right now.
Although not hand painted, they have a similar style and impact. Two are "unpasted and non-woven", meaning an adhesive (wallpaper paste) is required. Non-woven materials are a blend of breathable, mold-resistant fibers essential around doors and windows.
The Mafra Green Flora Trails wallpaper, unpasted and non-woven, features a delicate print of flowers and birds on the bluish green background. One roll covers approximately 56 square feet.
Find it starting at $40/roll at Home Depot.
This Havenview wall mural from York Wallcoverings is bright, bold and lush with peacocks and lush branches for a feature wall. This is a self-adhesive mural covering 81 square feet (9″ H x 9″ W.
Find it for US$228 at Anthropologie (shipping and customs fees will apply).
This floral wallpaper is in full bloom. Rather than a busy garden, the detailed illustration focuses on an open rose. It is an unbonded, non-woven material and comes in 33′ rolls.
Find it for $105.99 at Lowe's.