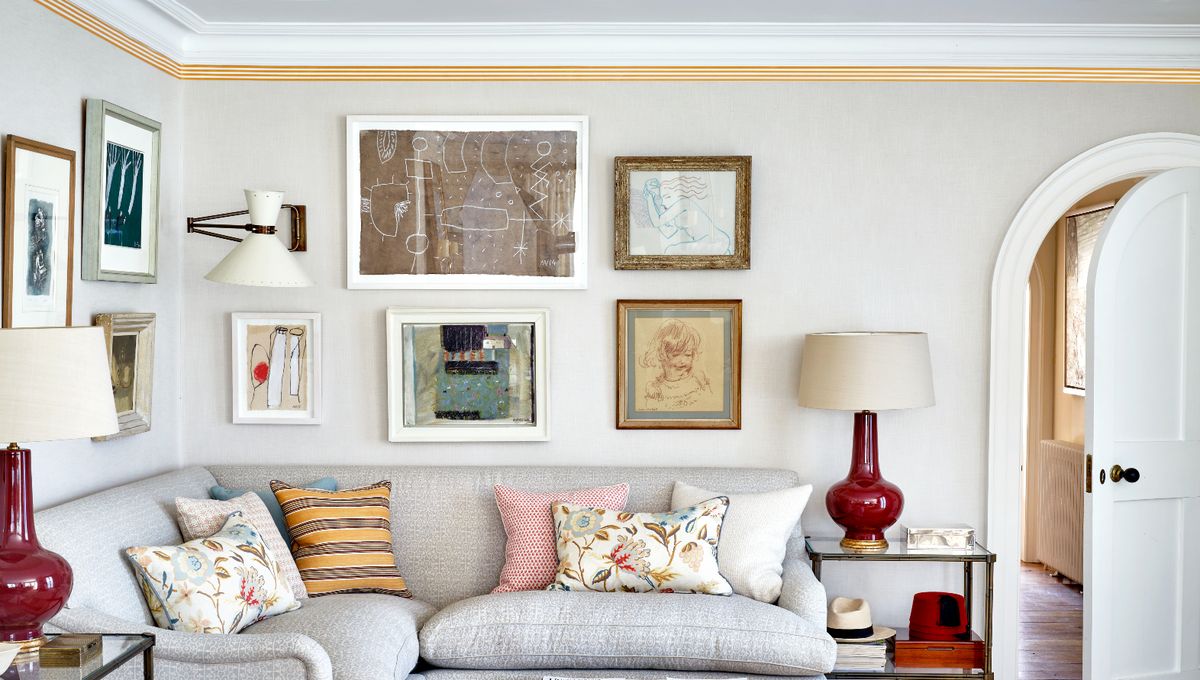 Wallpaper Borders got a modern overhaul for 2022
This season has seen a resurgence of revivals – from bird motifs to upholstered tapestries – and now wallpaper borders are found in the most well-dressed homes.
Borders are not new trend wallpaper. Originally, wallpaper panels were not glued to walls but hung with copper tacks, and borders were used to hide tacks, a technique that lasted until the 1700s when wallpaper also began to be used to change the proportions of rooms.
Over the years, interior designers and homeowners have played with wallpaper ideas as a means of correcting imperfections, adding layers to room schemes and, of course, choosing accent colors.
However, in 2022, wallpaper borders took another leap forward. We've seen new designs and new uses for them emerge from some of our favorite brands, designers and interior agencies, from Studio Atkinson to Paolo Moschino – and their revival suggests this trend will continue for many seasons to come.
Here's what you need to know about the decor overhaul of the moment.
Why are wallpaper borders trendy?
Wallpaper borders are popular again because they can quickly add layers and detail.
"We know that the use of color in homes has become increasingly popular over the past few months," says Lucy Searle, editor of Homes & Gardens. "We talk to interior designers constantly, and they largely cite the pandemic as the reason for this – homeowners have spent the pandemic lockdown lockdowns really looking at their homes and many are genuinely thirsty for the visual joy. Paint can bring color in blocks, but wallpaper can also bring rich colors as well as patterns and textures.
"Interior designers also tell us that people are braver than before with color schemes and pattern mixes, which means that before a wall could have been wallpapered on its own, now borders add that layering additional visual."
"Borders have been used for many years to enhance the simplest of rooms, adding detail and fun in a simple way," says Susie Atkinson, who recently designed the wallpaper border seen above.
"They are less constraining than wallpapering the whole room, but still bring that color and interest to the walls adding an accent to contrast or complete a room. The possibilities with them are endless.
How to Expertly Style Wallpaper Borders of Interiors
We asked some of our favorite designers how they style wallpaper borders.
1. To enhance carpentry details
"Borders can be styled in so many ways – along the top of a plain painted wall or at the height of a dado track to divide a wall," says Tess Newall, who designed the wallpaper border with Yolke. Babushka above.
However, Tess' favorite way to experiment with wallpaper borders is to use them with millwork details "like along the cornice of a cupboard or along stairs like in this example".
2. To create a patterned wall panel
Although Susie recommends adding wallpaper panels around your baseboards and doorways, she suggests using it as wallcovering with a "classic feel."
The designer uses it "under the tread of a staircase" and even applies the pattern to furniture "for something more contemporary or dimensional". It's the living room wallpaper idea we are excited to bring into our homes this season.
3. To associate with an old mirror
Paolo and Philip of Paolo Moschino Ltd also recently unveiled a collection of borders, but their style tips go beyond paper:
"We love using wallpaper borders, and as you can see in these photos, we created an illusion of marquetry and parquet flooring using borders," they say.
Designers suggest pairing this age-old feature with a statement antique, like an 18th century mirror. However, for an entirely modern scheme, they add that a "contemporary work of art" has a similar impact alongside the chosen design.
4. To define a door
"I love the return of wallpaper borders, but used in a new and exciting way," says Andrea Childs, editor of Country houses and interiors.
Andrea suggests recommending investing in the Susie Atkinson collection (above) and using the color graphic stripe to frame your door. 'like a sweep of shiny liquid liner extending the eye.' Alternatively, you can "apply them along baseboards and moldings to draw attention to original features". This feature is timeless, after all.
Are wallpaper borders trendy in 2022?
Wallpaper borders are definitely trending for 2022 and beyond. The popularity of 'wallpaper borders' really exploded in the 1980s, but it quickly felt outdated and fell out of favor with interior designers and homeowners," says Lucy Searle, editor, Homes & Gardens. "However, newer and newer designs and applications, coupled with homeowners' desire for more patterns, colors and layering to create richer and more intriguing schemes, have made them popular again in 2022."