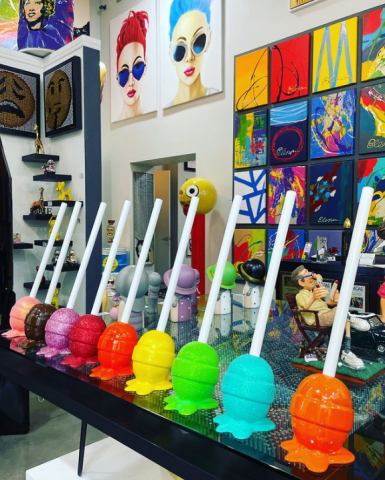 Too Sweet to Eat – Artwork by Elena Bulatova
Mouth-watering sculptures – Elena Bulatova who achieved realism in an unexpected genre – candy! She challenges her audience and collectors to take a closer look at her bright, brightly colored artwork that depicts the real lollipops we all know from childhood.
Las Vegas, USA – September 24, 2022 —
Lollipop sculptures by Elena Bulatova are works of art sweet enough to eat – but beware – these are only for your eyes to feast on! These realistic candy sculptures are dripping with sweet satisfaction and come in vibrant colors, just like real candy. Artist Elena Bulatova has been creating works of art for over a decade and has become internationally recognized for her Lollipop sculptures, which over the years have ranged in size from micro to larger than life or monumental.
Elena Bulatova uses color and shine when creating her sweets, making them so realistic that they attract, charm and surprise their audience. The image of the melting lollipop is a familiar symbol of reward and pleasure. These colorful works of art are reminiscent of a carefree childhood when we craved sweets. We can still enjoy the bright colors and nostalgic childhood memories when looking at Bulatova's works.
Through Bulatova's creative use of scale, color and shape – lollipops that we normally take for granted and consume as quickly as possible, become aesthetically pleasing visual works of art that can last a lifetime. life. "My colourful, entertaining and impeccably produced lollipops activate people's cravings for the things that give them pleasure and force them to give up," says Elena Bulatova about her collection. These mighty works of art can be taller than 12 tall and lend a fun, whimsical presence to an outdoor space.
Bulatova's lollipops in various sizes bring a splash of color and lighthearted attitude to any decor, and are available to be made in custom colors or sizes – including rainbow! Elena Bulatova's "Lollipops" have appeared in numerous Hollywood feature films and range from tabletop chrome pops to larger-than-life masterpieces. Some of his greatest edits can be seen on the Top Hit Netflix shows Inventing Anna, Lucifer, and private estates around the world.
Contact information:
Name: Elena Bulatova Fine Art LLC
E-mail: Send an email
Organization: Elena Bulatova Fine Art Las Vegas
Address: 3720 South Las Vegas Boulevard, Las Vegas, NV 89109, USA
Phone: +1-760-812-9234
Website: https://www.elenabulatovafineart.com/
Build ID: 89082130
If you detect any problems, problems or errors in the content of this press release, please contact [email protected] to let us know. We will respond and rectify the situation within the next 8 hours.
COMTEX_415182807/2773/2022-09-24T06:17:00