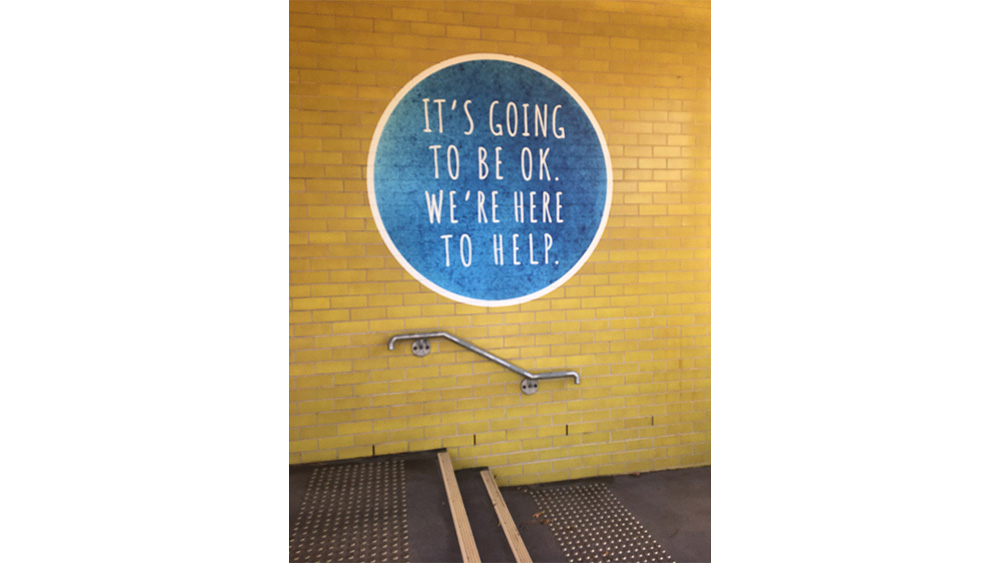 The school envelops students and families in its support network
Brisbane Water Secondary College's Woy Woy campus is officially a "positive education" school that gives students, teachers and families the tools and tenacity to thrive, even during a pandemic.
Woy Woy is the college's senior campus and typically hosts over 700 students in Grades 10-12.
Senior Wellness Teacher Linda Langmaid said: "We have worked hard with the children to teach them that it is a good thing to ask for help and to say that I am not doing it. right now.
"We all have to learn that we can do it together.
"Our kids have faced all types of adversity, but they are strong and they are doing amazingly well."
Langmaid said the school regularly uses many "positive education" techniques.
"A philosophy that we teach children is to focus on what is going well in their life and we teach them how to create positive emotions in their life and this is a special time when they need to practice this", she declared.
"It's not a technique where we say life will always be perfect, but it teaches them to come out when they feel sad or feel defeated.
"We teach them about neuroplasticity and that we can change the way our brains work.
"It's about creating positive habits and at times like this it can be as simple as making sure you get out of bed, have breakfast, take a shower, get out of your pajamas and follow a routine for the day.
"We talk a lot about gratitude and about being grateful, about kindness, about noting what is going well in your day, trying to train our brains to seek the good."
Langmaid said the school has recognized that the extended lockdown is a huge challenge for students and the adults in their lives.
"We have to recognize that it has all kinds of impacts in all kinds of different ways.
"We are very fortunate that our principal, Rebecca Cooper, has put in all kinds of resources to support the children.
"We have around 12 staff members who are in contact with the children at home.
"We each have a load of student cases that we call at least every other day.
"We have sent technology for families, computers and wifi dongles and we are sending baskets on a Friday for families in difficulty.
"There are so many innovations in terms of online courses where everyone has learned a lot of new ways to present things in a way that engages kids to keep learning all the time.
"We are just discovering all kinds of challenges that we have never thought of and we have to develop our support individually for each case we encounter, as needs change from child to child."
Grade 12 students will take their HSC essay exams online.
"The situation changes daily and unfortunately none of us have a crystal ball, but what I do know is that there is a network, a supportive spider web that runs through the school and I know that it's the same on the junior campus as well.
"I can't be the eyes and ears of every child, but emails are coming to me all the time from teachers.
"For example, a teacher noticed that a child who was still on the zoom was not there today, so the teacher asked me to watch them – our teachers know their children, which is the key. from a good school.
The staff are mobilizing around families who have lost their income with grocery gift certificates for the baskets but also around each other and
get creative with these connections.
"We have morning tea online for the staff on a Thursday, so last week one of the PE teachers organized a fitness class for everyone.
"We have an online assembly every week so that the kids of every year can see each other.
"They go into breakout rooms and talk to their team leader who is setting up a trivia session or sorting game."
Langmaid's message to the entire school community, including parents, is that in a "school community that is so united, there is nothing wrong with asking for help, in fact it is great to. asking for help because we are showing our children that it is the right thing to do.
"We're all still in school but it's just in a different place."
Case Study – Positive Approach to Containment Learning
Ethan Hill, a 10th grade student at Brisbane Water Secondary College, firmly believes he is lucky to be locked up.
Ethan has yet to decide whether he wants to go to TAFE or college after his HSC to study sports and recreation education, but, for now, he is focusing on the benefits of teaching. in line.
"To be honest, I'm doing pretty well with the lockdown; I like online school – I find that I work easier, I am more focused and I have free time to do whatever I want, like taking a walk or going to the beach, "he says.
An only child, Ethan lives with his mother, father and grandmother in Woy Woy.
"The downside is that I'm not with friends but my grandmother lives with us so if I get COVID it would be pretty awful so I have to be very careful."
Ethan says he stays in touch with his friends but describes it as "a different kind of connection, not the same as dating them."
"It sucks in part but, especially looking at the rest of the world, I guess we're lucky even if it's not perfect."
Ethan praises his teachers: "All of our teachers have really supported us.
"We have occasional zoom meetings to see the rest of our classmates and we started doing the 10th grade stitching and daily checks.
"The other part of the work is virtual via Google Classic and we can work at our own pace and at our own pace," he says.
Jackie Pearson