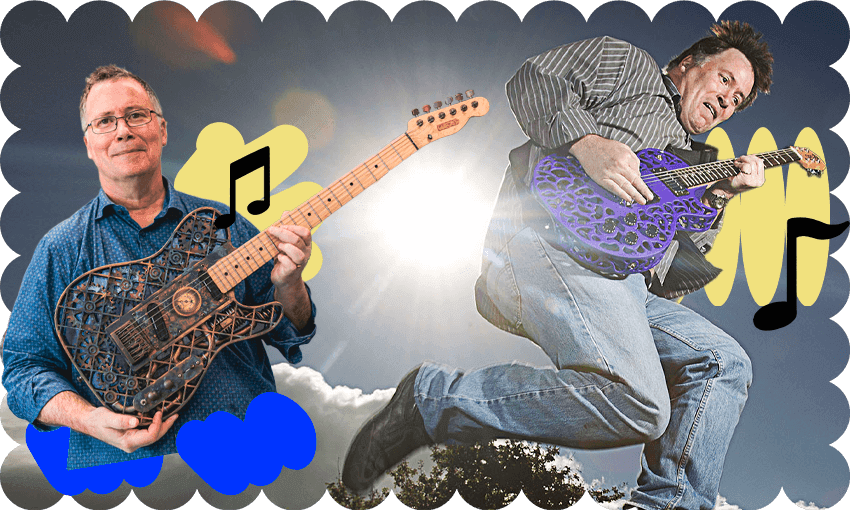 'The future of musical instruments' could be in this 3D printing professor's lab
Olaf Diegel makes guitars like you've never seen before. Naomii Seah visits her lab at the University of Auckland to find out how 3D printing could open up new worlds of musical possibilities.
The Newmarket Campus of Waipapa Taumata Rau – University of Auckland is a great building. The former Lion Breweries site sits prominently just off the busy Khyber Pass Road, its facade all gleaming white and silver chrome. It would look more like a Martian base than a place of education if it weren't for all the university signage.
But perhaps the futuristic look of the building is appropriate given the type of research activity inside. Inside, in front of a row of gleaming university-owned race cars Formula SAE Team, there is a space filled with a host of bizarre objects. Through the window, I see a water feature that looks like a futuristic mouse shower, a life-size human anatomical model, a towering torso formed from a lattice structure, and many other fantastically colored abstract shapes.
This is Olaf Diegel's lab. Its official title is Creative Design and Additive Manufacturing Lab, and it is part of the university's engineering department. Diegel and his team specialize in 3D printing – most of the items on display were printed using their in-house printers, which can create patterns in a variety of materials including plastic polymers, metals and even metals. food powders.
Although the lab's experiments look like the eccentric creations of some type of mad scientist, you wouldn't guess it from looking at Diegel. Dressed in a blue shirt and jeans, the affable Dunedin-born engineer looks like your classic lawn-mowing, barbecue-loving dad. He speaks quickly with an accent that is difficult to place, but which I will later discover is a mixture of New Zealander, Canadian and South African. Visibly passionate about his work, he launches straight into a tour of the lab, showing me all the machines and what the team has created over the years.
On a table near the door, several small, color-printed models of people are so precisely detailed that even their skin looks realistic, criss-crossed with red veins and hair-like features. On the wall are several life-size models of Diegel's face — they can fool Samsung and Huawei's facial recognition software, he tells me conspiratorially, but not iPhones. One of the replica's faces contains eyeballs that can move from side to side. One of the lab's other projects involves food printing, where powdered foods can be used to create personalized, easy-to-chew meals with specific nutritional values. They have also been involved in making city models for Auckland Council, anatomical models and replicas of delicate objects.
But what we're really here to see is sitting in the corner, unassuming among the many other fantastical objects. It's an alien-looking fuschia pink 3D printed electric guitar. Well, not this particular guitar – Diegel has been making 3D printed guitars, drums and other instruments for over 10 years now. He made his first guitar in 2011 and wrote a blog about it. Musicians around the world have started contacting him, blown away by the intricate design, and the rest is history. He sells 3D printed instruments under the name strange guitars since, producing over 80 to date.
"If you want to make an ordinary, normal-looking instrument, printing is a dumb way to do it," Diegel tells me over the hum of machinery around us. "But when you have these incredibly complex shapes, that's where 3D printing shines."
And it is obvious that these guitars would be practically impossible to manufacture without this 3D printing technology. Diegel offers many designs for its guitars, but they are all made from a single hollow piece of plastic; inside, his designs boast what he calls "eye candy".
"They're almost like a diorama…the trick is always to make the body so you can see inside."
This allows Diegel to create designs such as American, a "New York and American themed" guitar with a star-studded design. Inside the body, Diegel fashioned landmarks like the Statue of Liberty, the Brooklyn Street Bridge, and St. Patrick's Cathedral. He says themed guitars like this are the most fun to design.
His favorite is his Beatlemania bass: "It's Paul McCartney's violin shape [Hofner] bass, and inside there's the Yellow Submarine, the Abbey Road – all the iconic scenes from the Beatles era. He kept the original Beatles bass for himself, but has since sold another to a customer in the US – these are the only two in existence.
Diegel has been 3D printing since the 90s, when he worked in product development for lighting companies. Back then, 3D printing was almost exclusively used for prototyping. But over the past decade, this technology has finally become good enough to become a viable manufacturing tool.
Not that the process is easy by any means. Diegel shows me two triceratops figurines rendered in metal. One is polished and finely detailed, and the other is almost completely covered in thin metal brackets. These spacers are important for structural integrity when the figures are put together, Diegel says, and many 3D-printed models go through long and laborious post-processing.
"One of the guitars [I've made] is printed in aluminum. My hands were bleeding at the end of this one after removing all the brackets inside! It took me four days to remove all these dots. You have to break it with dentist tools.
Instruments made from plastic powder are relatively easy to produce, although they are labor intensive to paint and decorate. But Diegel can't make them in his on-campus lab — he has to outsource the work because the instrument bodies are too big for the university's machines. Another issue is cost: the machines consume a lot of energy and materials, with designs taking hours to print. We're talking about $150 per hour to run, Diegel says, and depending on the design and speed of the machine, products can take almost a day, which means the costs add up quickly.
In addition to his many plastic, metal guitars, and his most recent compacted sawdust design, Diegel has also 3D printed saxophones, drums, and keyboards. He says he's content to make string and percussion instruments, but in his opinion, the most exciting design possibilities are actually found in wind instruments.
"You can have all these weird cavities inside the instrument that modulate the air passing through it in certain ways. You could produce completely unique sounds that would otherwise be impossible to produce.
Diegel pulls out a replica of a taonga pūoro, namely a large pūtātara, or shell trumpet. It was printed in plastic, and it blows into it, producing a ringing call. "There's no way to manufacture this," says Diegel, referring to the intricate spirals and hollows inside the shell. "Nature made it in a million years, but with 3D printing, suddenly you can [replicate] that. Now you can even take it a step further and start changing the way air flows through the shell.
"I think that's where the future of musical instruments lies: creating new unique instruments, new sounds. I think that's where the fun is going to be.
In the meantime, Diegel's next project will be to redesign the 3D printed saxophone. His first attempt leaked air and he thinks his mistake was trying to imitate traditional saxophones too closely. "I've thought about using magnets as a spring before," he tells me, his eyes shining with possibilities.
But one big question remains: how do these 3D-printed instruments actually sound? The short answer: "they sound great," says Diegel. Sure, he might be biased, but he notes that his instruments are basically "a wooden guitar with a small body that has a 3D-printed shell." The pickups do all the work, Diegel says, so the interesting body designs are purely aesthetic.
For the truly curious, Diegel is hosting a music showcase at Devonport's Depot Artspace to coincide with New Zealand Music Month and Techweek. The exhibition will run for the whole month of May and during the opening (this Friday, May 13 from 5 to 7 p.m.), a group will play a set of fully 3D-printed musical instruments, including a guitar, keyboard, bass, a battery and microphone. Instruments on display will include Diegel's hand-destructive aluminum guitar and his prized Beatles bass.
"This will be the first time a 3D printed band has played in New Zealand," says Diegel. He doesn't know what they'll be playing yet, but says he's looking forward to the surprise.