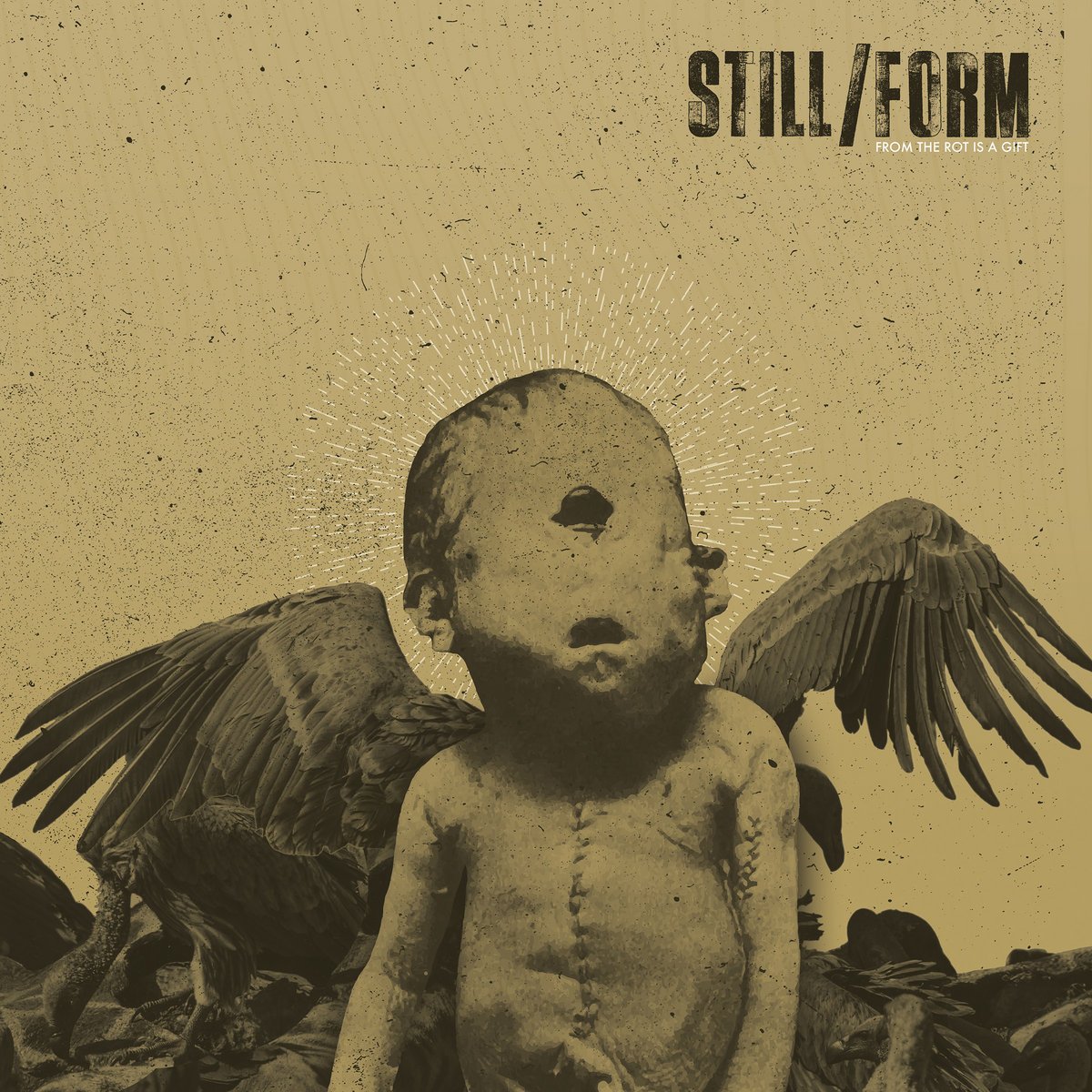 Still/Form – "Rot is a gift"
Based in Portland HEX records are well integrated into the scene. They released my absolute favorite album of 2020, Gaytheistthe wild and sarcastic mathcore/punk juggernaut of How long have I been on fire. Now they're pushing this unearthly beast of a debut album by FIXED/SHAPED. Oh boy, this trio is a tour de force! A new name on the street, but old faces on the stage. Guitarist/singer, Robert Comitz was having his ears ravaged in MARRIAGE + CANCER. Bassist/backing vocalist Kirk Evans made his muddy tone known in the atmospheric doom sounds of dark numbers. Rounding out this godless supergroup, drummer Ryan Losli of post-black-metal band irsanctuary. All of this begs the question: Portland, what are they putting in the water? ! ? Check out the music video for "Gums," the most macabre/hellish song to ever feature a bass solo, and see what I mean.
That's what I call a waltz! And let me praise that scratchy-scratchy riff at 1:49. These are the kind of teeth guitarists have to bite us with. Nibble on the ears. In so many places on this record, I remembered my favorite guitar-terrorists.
The weird dissonant melodies and groovy breakdowns give me flashbacks to Kornis the fiercest output. life is fishing was completely unbalanced at times! Scroll FIXED/SHAPEDit is instagram and see if you can find the haunting face of Girls'"empty glass" pedal by fuzzy. Also, definitely an inspiration. Then there's the wild nature of the guitar playing (coupled with the raging rhythm section) that evokes the first couple young widows scrapbooks. PS, old wounds is an underrated masterpiece, and I have to take every opportunity to shift attention to it.
That's probably enough comparisons, let's cut into the rotten meat of this album. First, a very strong opening with the title track. The fast 5/4 groove whisks you through the song like a roller coaster through a haunted house. Setting the tone, it foreshadows all the thick, dirty bass, raw percussion, loud scratching and anguished talk/shouting to come.
"Pigs End" goes even further in the madness. I love the call and response arrangement in the post-chorus with the guitar rising from hell and the bass sliding quarter notes into it, as Comitz warns that 'there is always more to burn'. It hits as hard as some of the chilling refrains of You won't get what you want.
Emphasizing upbeat beats doesn't necessarily make your song feel upbeat, as the next track, "Unhung," proves. There's a pattern that slowly forms, with each song taking the outro passages into new torries of dread. This track takes it a step further and slips effortlessly into the next song, "Loyal, Like Dogs". The cymballess 7/4 beat, post-punk bassline and siren-like guitar hum make for a sick intro. The tension finally emerges with a catchy four-chord chorus that has me doing chores around the apartment, grumbling, 'Dying orderly/obedient' although I'm not sure of the lyrics. You have to pull out a lyric sheet somewhere! That's maybe my biggest problem with this album. Vocals tend to be a little timid in the mix, and as a result lyrics become hard to discern.
I know this album has good one-liners too. Like on "Dead Check", where the whole song dives into the grave as requested by Comitz'How's six feet for you? / How's six feet of cold ground?'. It's amazing how this song reminds me of a possessed Kurt Cobain after gargling with bleach. Evil-grunge.
The album begins its home stretch with a trio of tracks that might shrink in length but not in aggressiveness. "I Live, You Die" sounds like a cross between SLOW MOTION and Girls with its post-punk groove and high octave chords. I love the catchy ending that leaves you with what looks like a dark cloud in sonic form. Seamlessly transitions to "God will understand why you're excited for the kids" as a call-and-response noise during the verses. The song title is pretty on the nose, so you know what to expect. "Hydrate" sums things up quickly, like a spiral ride on a bridge. The distribution oscillating around the two-minute mark is one of the best on the whole album.
Rot is a gift is a concise 9 pieces of just over half an hour. Part of me would have liked one more song or interlude in the middle to break up the auditory onslaught. At the same time, it's so relentless from start to finish that you have to admire it. That's what metal sounds like to my parents. It's exactly what to put on at the gym after downing a ladleful of crack. You're on the Multi-Mouthman Baby Mothman Sprinting Elliptical on the cover.