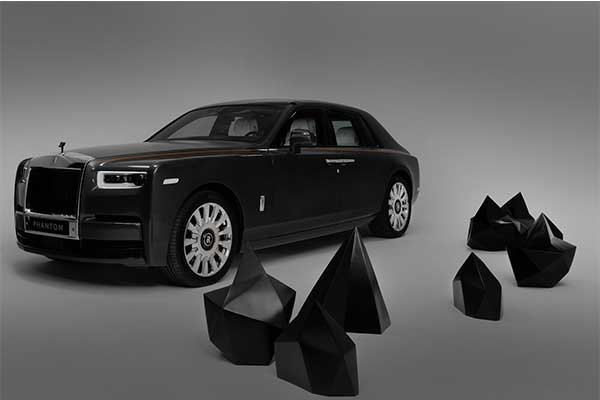 Rolls-Royce presents innovative works of art with the Carbon Veil gallery
Rolls-Royce Motor Cars Dubai, AGMC, is delighted to present a truly remarkable example of bespoke artwork created for the brand's flagship Phantom. The carbon veil has been specially developed for the gallery area in the fascia, a feature unique to Phantom, where owners can choose to display original artwork or design.
The Carbon Veil, which took two years to create, is made from carbon fiber. For most automotive applications, only three or four layers are used. For Rolls-Royce Phantom, no less than 150 sheets were impregnated with resin and compressed to form a single solid billet.
The artwork was commissioned and designed by the Rolls-Royce Bespoke Collective based at the Home of Rolls-Royce in Goodwood, England, and crafted by artist and sculptor Alastair Gibson, who combines knowledge and expertise gained in Formula 1 to create his carbon fiber masterpieces. .
The carbon veil brings a very contemporary note to the interior of Phantom, with clean, angular surfaces and the distinctive woven surface synonymous with innovation, technology and performance. Depending on customer preference, the carbon fiber is finished in clear or matte lacquer which brings out the weave pattern and protects it from harmful ultraviolet rays. The whole is sealed under a single pane.
Each ghost gallery is individually assembled in Goodwood's clean room. Completed in 2020, this medical-grade facility provides a 100% sterile environment where custom-made items and other delicate components can be produced completely free of dust and particles.
The gunmetal exterior is enhanced by a glazed finish with a contrasting gunmetal hood, while the bodyline and waftline are accented in bright tangerine orange. At the helm of the bonnet stands proudly the Spirit of Ecstasy crafted from carbon fiber.
Inside, the charcoal gloss workmanship provides moments of contrast, along with the color-matched rotary controls and leather detailing. Dark tones and light leather flourishes beautifully accent the Veil Gallery on the Phanton's fascia. Crisp Black Pack elements on the exterior include eye-catching black trim on the windows, grille and exhausts.
The Gallery is a protected space behind glass. This space offers the possibility of introducing clean and aggressive forms, unprecedented for a vehicle interior. The design of the faceted milled carbon fiber tread pattern was originally inspired by the angular, aggressive and stealthy shapes of the 118 WallyPower.
The very attitude and nature of the gallery has been extended to other bespoke details both outside and inside the ghost in which it resides. With a very contemporary edge, the vehicle exemplifies the spectrum of bespoke potential, with Phantom as a backdrop like no other.
Alastair Gibson's works are highly prized by collectors in North America, Europe, Asia, Australia, the Middle East and his native South Africa, and can be seen in galleries around the world. whole world.