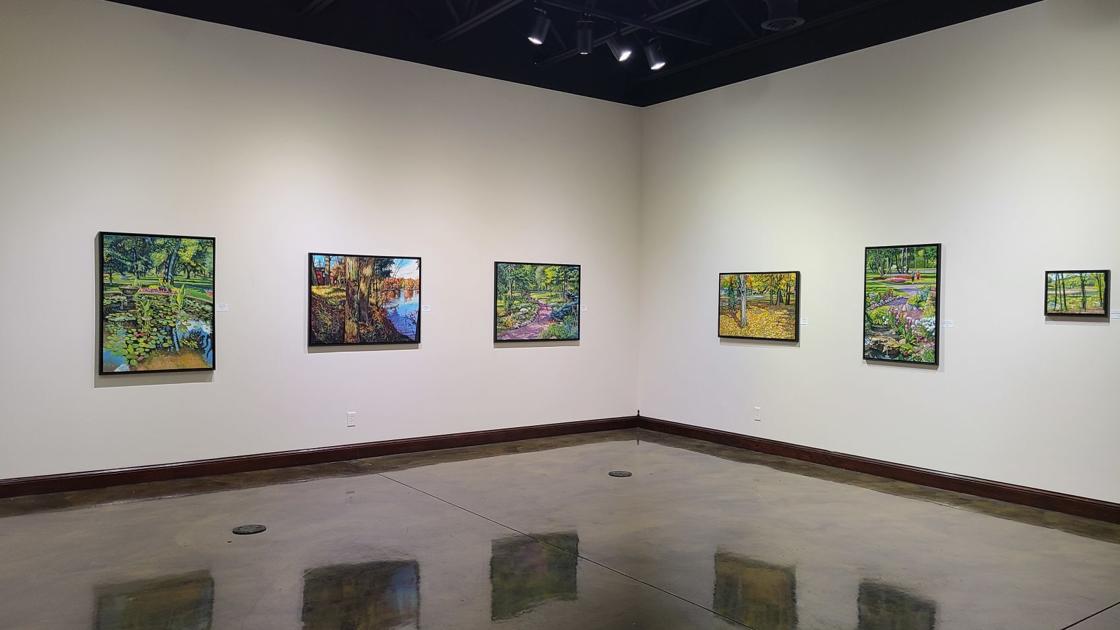 PCA Gallery Opening Showcases Unique Variety of Artwork | New
Among the musical performances scheduled at the Paradise Center for the Arts in the coming days, this is an opportunity for the artists to show their work.
From October 1 to November 13, a variety of mediums and art styles are available for viewing in four of the PCA's galleries.
The gallery opening for William Bukowski, Jay Schlie, Emerging Artists Group Show and Bethlehem Academy students takes place Friday with a live Facebook interview with the artists at 5:30 p.m. A virtual artists conference will take place via Zoom on October 21.
Bukowski's realistic / figurative work can be found in the Carlander Family Gallery. A professor emeritus at Bethany Lutheran College where he taught for 40 years, his work which is exhibited mainly features open-air (outdoor) landscapes of Minnesota.
"Sometimes I think of painting as visual poetry," Bukowski said in a press release. "My landscapes are intended to produce calm and rest. I'm not interested in painting the troubles of modern life or the chaos of politics. I want my paintings to be a relief from the stress and worries of the world and a reflection on God's creation and the joy of living.
He made paintings to order for some hospitals and medical centers. Currently, Bukowski is working on a series on the life of Christ for the Trinity Lutheran Church in Waterville.
In the Lois Vranesh Boardroom gallery, viewers can find the photographs of Faribault native Jay Schlie. Focusing on adventure, Schlie enjoys cycling to places he has never been and taking photos of scenes he finds intriguing. Schlie enjoys mounting her photos on wood to bring out the reflections, character and overall emotion of the photo.
Emerging artists Shawn Bagley, Janell Hammer, Caroline Brice, Stacie Petricka and Michael Finch will all work in the K&M gallery. This specific show is aimed at young artists at the start of their careers. PCA visual arts and education director Julie Fakler said the gallery committee wanted to highlight those types of artists who can fall between student galleries and more experienced artists.
A mix of both college and high school students, Bagley is a functional pottery artist at Minnesota State University, Mankato; Hammer is a realistic portrait painter from Hamline University. Brice is a figurative artist at Northfield High School, Petricka is a figurative artist at Faribault High School, and Finch is a sculptor at Hamline.
While some students, like Hammer, have already exhibited their work in the student gallery, others, like Finch, will be on display at PCA for the first time. Of Finch's job, Fakler says he demands a presence and she's thrilled to have him at the PCA.
Students of Jason Hillshiem's ​​art classes at the Bethlehem Academy will exhibit a variety of works of art in an assortment of mediums.
Whether it's landscape paintings, photography, pottery, sculpture, realistic oil painting, and digital art, Fakler says it's fun to see all the variety in the work. Once a year, PCA launches a call for applications for three PCA galleries. Submissions are collected year round, and gallery committee members review and select artists who will participate in exhibitions. While it depends on the artists who applied, Fakler says they try to get a variety of mediums and styles.
Fakler, as an artist herself, says it's nice to be able to show people your work, instead of just seeing the four walls of the studio. In group exhibitions, Fakler finds that the work often plays on one another. In some cases, shows can also increase productivity and be a good motivation to get the job done.
"It's important to have that time frame so that you can finish the job and get it ready," Fakler said.
Although PCA's normal opening hours are Wednesday through Saturday, Fakler says those who wish to view the artwork can make an appointment at another time of the week to view the galleries. She also adds that some works are for sale, but not all emerging / student art.
Contact reporter Michelle Vlasak at 507-333-3128. © Copyright 2021 APG Media of Southern Minnesota. All rights reserved.