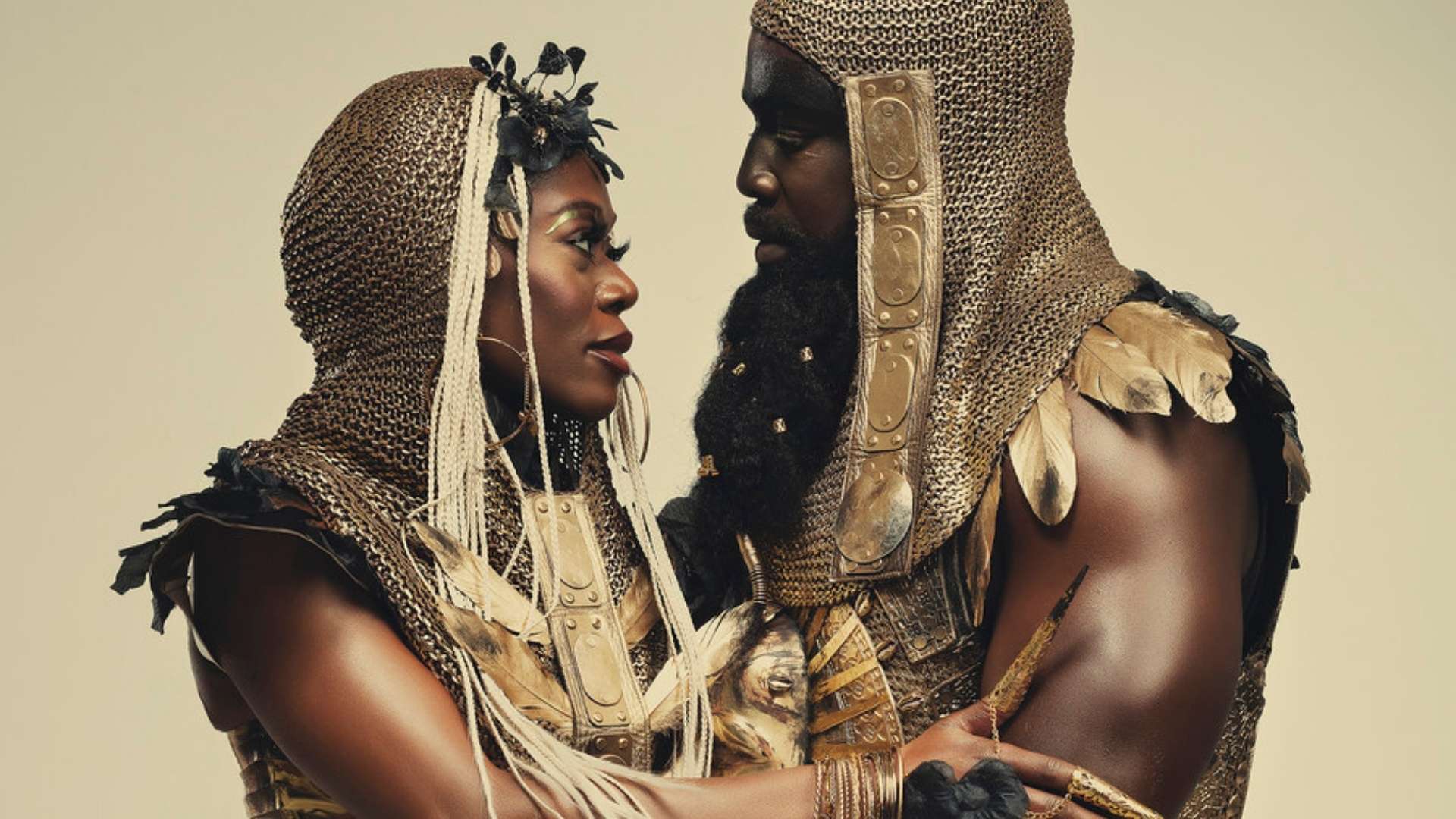 New Àsìkò illustration published for RSC Much Ado About Nothing
The Royal Shakespeare Company (RSC) today released new illustrations for the upcoming production of A lot of noise for nothing directed by Roy Alexander Weise.
The new artwork is created by Àsìkò, a UK-based Nigerian conceptual artist whose solo exhibition "Of Myth and Legend" is currently on display on Sloane Street in Knightsbridge, and whose exhibition "The Woman in the Photograph "was recently seen at St James's Market. .
The work presents Michael Balogun (Death of England: Delroy in the NT) and Akiya Henry (Macbeth at Almeida), who play Benedick and Beatrice, portrayed in costumes designed by Melissa Simon-Hartman, a London-based artist, fashion designer and owner of Simon-Hartman London, whose West African and Caribbean inspired designs recently featured in a powerful catalog of music videos including "Mood 4 Eva" and "My Power" as part of Beyonce's 2020 visual album: Black is king.
Àsìkò said: "For me, the image was meant to celebrate new interpretations of Shakespeare's beloved characters using inspirations from Afrofuturism ideology. It is also a joy to bring the aesthetic of my African identity into a visual story as it celebrates my heritage and the incredible diversity that exists in the UK. Through the process of creating the work, I sought to hybridize the English and African aspects of my heritage which is a common theme that runs through my work as an artist. Working with Roy, Melissa and the creative team has been a great collaborative experience, the kind we visual artists seek on our journey.
The show will take place in the Shakespeare's Royal Theater from February 4 to March 12, 2022.
The company includes Toyin Ayedun-Alase (Verges), Micah Balfour (Don John), Michael Balogun (Benedick), Rebecca Banatvala (Seacole), Michael Joel Bartelle (Sexton), Mensah Bediako (Antonio), Christelle Elwin (Messenger), DK Fashola (Friar), Kevin N Golding (Leonato), Akiya Henry (Beatrice), Karen Henthorn (Dogberry), Aruna Jalloh (Oatcake), Sapphire Joy (Margaret), Curtis Kemlo (Borachio), Denver-Isaac Kwashe (Conrade), Mohammed Mansaray (Claudio), Taya Ming (Hero), Ann Ogbomo (Don Pedra), Luke Wilson (Balthasar) and Adeola Yemitan (Ursula).
The production will feature set design by Jemima Robinson, lighting design by Azusa Ono, sound design by Claire Windsor, movement by DK Fashola and dramaturgy by Anthony Simpson-Pike. Costume design is by Melissa Simon-Hartman.
The production will also include an original score by the Nigerian-born British guitarist and MOBO award-nominated musician Femi Temowo whose former collaborators include Amy Winehouse, Dee Dee Bridgewater, Roots and Soweto Kinch.