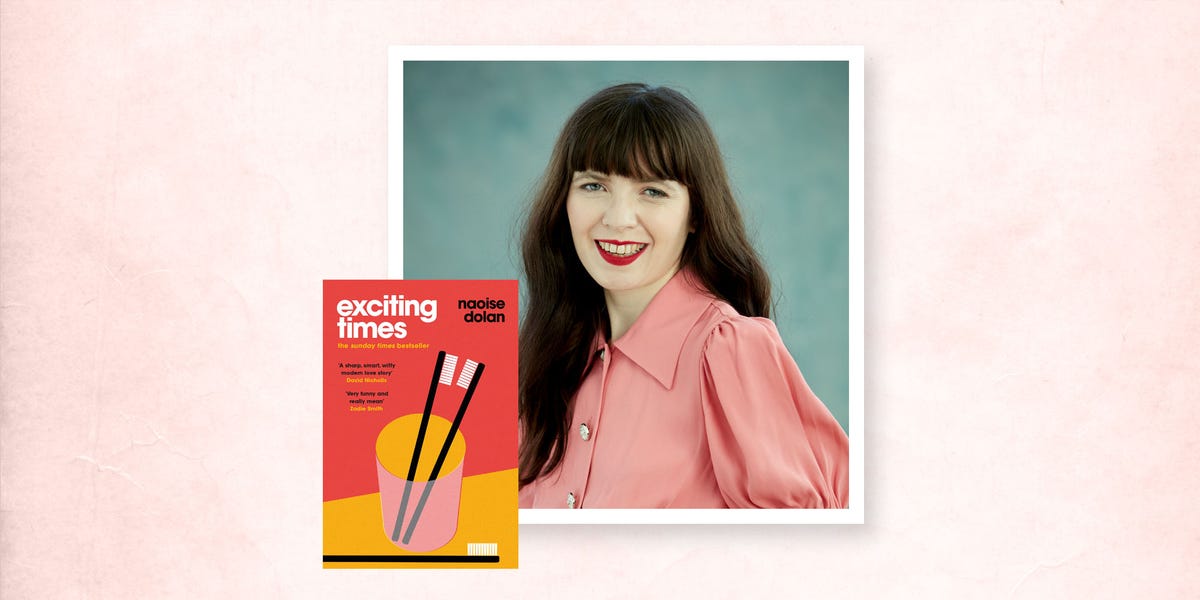 Meet the Futures finalists: Naoise Dolan
[ad_1]
Meet the Futures Finalists: With the Women's Prize for Fiction, we launched Futures to showcase the talent of the next generation of female writers and help them lead the long and illustrious careers we believe they deserve.
Naoise Dolan, 29, was born in Dublin and studied English Literature at Trinity College Dublin and the University of Oxford. Her first novel, The Exciting Times, was written while she was living in Hong Kong and ended in just five months. The book has already been shortlisted for several awards, including Waterstones Book of the Year.
What was the inspiration behind your novel Exciting Times?
To be honest, I never remember how I originally came up with any of my ideas. I don't find having a thought a surprising event. What's rarer is a thought I want to pursue long enough to make a book out of it, but it's not a decision I make in a single moment – it's a really gradual feeling.
Tell us about your journey to publication.
I kind of fell into it. I had just left college and wanted some kind of creative project to have fun with, so I thought about trying a novel. I wrote it on trains, in cafes on my lunch break, that sort of thing. Then I left it for ages until a friend offered to read it at her Christmas party, and finally I sent it to agents and got a few offers. My agent Harriet Moore had the most drastic editorial suggestions so I went with her – I think I'd always prefer to work with people who push me, because I push myself anyway so it's nice to have the company. . Either way, Harriet is brilliant and everything about posting from that point on was all about her. She sent the novel to publishers, managed the ensuing auction, and has been with me every step of the way since, from the novel's final editions to publicity and publication.
What motivates you as an author?
I will often focus on areas of the craft that I know I have room to improve on – I find it very satisfying to learn while doing. I also think if you think about something in your head it's really satisfying to map it out and see how all the parts contribute to the whole. My mind is terribly disorganized, so writing feels like decluttering – in the end, ideally, I'm left with only the words I want, arranged in a meaningful order. This is how people discuss essay writing, but I think it applies to all the other forms I work in as well.
What is your favorite book written by a woman and why?
Sayaka murata Grocery woman, which I read in a translation by Ginny Tapley Takemori – because translators deserve credit too! It's such a special book. "Favorite" can mean a lot of different things, but I think for me it's a more emotional and intuitive category than, say, the books whose structure and pace I admire the most, the more spiritual books, books with the most beautiful descriptive passages, etc. There are formal reasons I think Grocery woman is well written – Murata knows how to intrigue you, punctuate the emotional arc, match the narrative voice with what we know about the character – but in terms of "favorite," this is the book I give people. This is the book I give to people who don't like books, the book I give to people who liked books but haven't read anything in ages. Everyone comes back to me asking for more books of the same kind. Only Murata can be Murata, so I hope they translate everything she writes.
What's the best writing advice you've ever received?
Leave spaces between writing something and each series of edits. The distance from the project will help you see what you need to do. Because I am completely neurotic, I once took this advice incredibly literally and made a real spreadsheet of everything I had been working on over the past few months, planning periods edit and fallow for each piece as if I was planning a complex crop rotation regime. . Obviously I followed the plan for about two days and then got bored, but the general principle is sound.
What do you think you would be if you weren't a writer?
There are probably three such jobs all over London, but I would love to be a gift wrapper in a department store. I just like to wrap up. When I was a kid you always knew what gifts were from me at parties because they were 20% present and 80% wrapping paper. To this day, there is a kitchen drawer where I store tissue paper and pieces of tape, all pieces of tape, even though they come from a hand towel I bought at the supermarket. Strangely, I don't care at all if someone else packs something they give me, or how they pack it if they do. I think I find the packaging so inherently rewarding that I don't think of it as a proxy for showing affection. I wrap to wrap.
Which author do you find most inspiring and why?
I love reading Doris Lessing's interviews. She seems to have had such a solid internal sense of who she was and what her writing meant. I found it shocking at first when she disowned the way some feminists read it, but come to think of it, self-proclaimed feminists have often co-opted the work of other women and made sense of it, and it is no less suffocating than it would be. of someone who did not call himself a feminist. I think Lessing has the right idea, that other people will always be projecting things on you, and you don't have to agree to that if you don't want to. Then again, that's all I project based on how others wrote it. Maybe it would be better to say that I love the Lessing-themed entertainment his interviewers produced.
Do you have writing routines or ticks?
Not really, other than going to our local cafe when there's something urgent that I need to complete in one sitting. I carefully preserve this space only for this purpose. It's a bit like sleep hygiene – you know you're not supposed to do anything in bed other than sleep? (On what note, I would be reluctant to sit on a sleep hygienist's couch.) I'm worried that if I started doing things that weren't urgent in the cafe, he would lose his Pavlovian association of a place I really need to sit down and do it. So that's the emergency writing space, and for non-emergencies, there's my room.
What is your favorite book for the Women's Prize and why?
that of Zadie Smith On beauty. I like it because it's Zadie Smith, but I especially like it because its 21st century riff on EM Foster's Howard end shows that the "canon" belongs to everyone. As a teenager I loved all the male authors that some very weird Americans online would consider a "red flag" if you see them on the library of someone you're about to sleep with – David Foster Wallace, Philip Roth , Martin Amis and so on. to. I am really happy to have read On beauty before going to college, because as a literary critic I've come to see a lot of value in taking a book apart to see what it does ideologically, but I never want to confuse that with the goal as a writer to produce a text that passes a sort of purity test. On beauty gave me permission to be influenced by anything that inspires me, knowing that I can adapt old forms to include people they have historically excluded and ideas that they historically haven't given much credit to .
What do you hope to have accomplished as a writer in ten years?
No more novels, that's the main thing. I'm not going to hurt myself by saying how much. And I want to write lots of other things too. I think because I wrote my first novel without any formal training, I have a strange beginner's confidence in trying other things – it's not that I think I'm good at everything, but I don't. I haven't the slightest idea of ​​anything, so a script or a collection of essays doesn't intimidate me any more than a novel. I would also really like to write a musical. Don't tell my editor, but I only write fiction until someone hires me to write musicals.
Vote for the winner of Futures
In order to find our Futures winner, we need your help. Vote now for your favorite writer. Everyone who votes will be entered into a raffle for the chance to win a £ 100 voucher to be used at bookshop.org.
Exclusive reader offer
Get 10% off the most recent books from the authors of Futures at bookshop.org using the code FUTURES10.
This content is created and maintained by a third party, and uploaded to this page to help users provide their email addresses. You may be able to find more information about this and other similar content on piano.io
[ad_2]