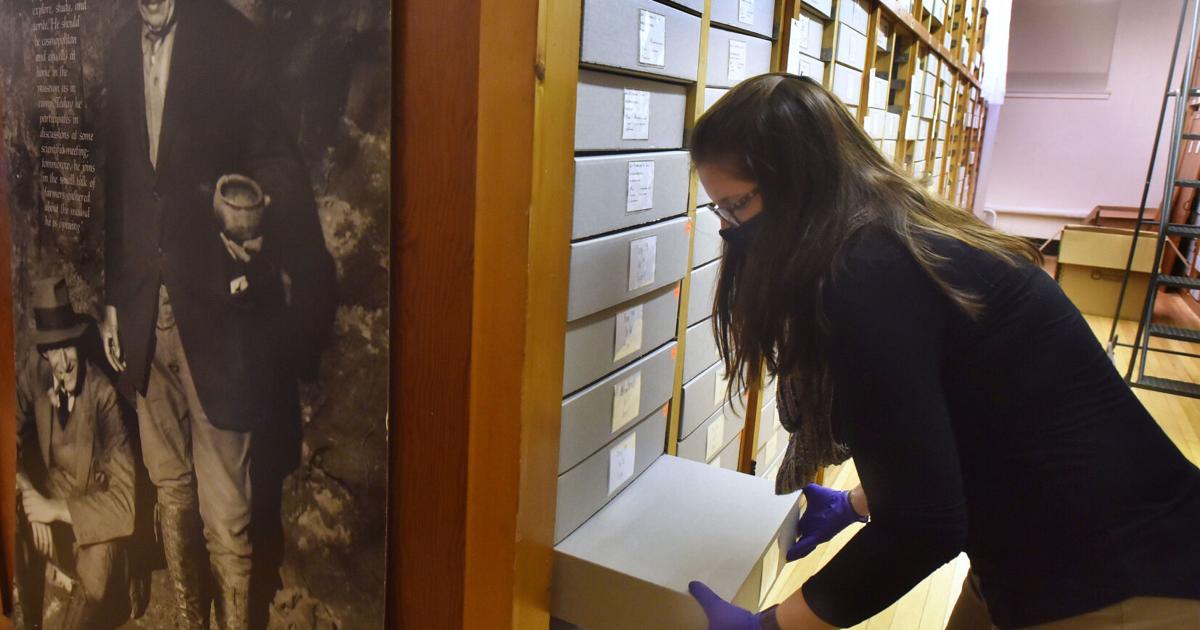 Four years and more than 500,000 artifacts later, the Peabody Institute of Archeology completes its inventory project (copy) | News
Curator of Collections at the Robert S. Peabody Institute of Archeology pulls a gray box from a basement shelf, places it on a table, and removes the lid.
In the archive storage box are smaller boxes and plastic bags containing stone tools from the oldest known site of human habitation in New England – the Bull Brook dig site, Ipswich.
The items, made by Native Americans when the land was emerging from the last ice age, include a well-preserved scraping knife.
Also a shapely, even elegant dip, rounded down and down the middle before tapering into a narrow neck. It was used to sink fishing nets.
Inside are also Clovis projectile points, fluted with their characteristic notch at the base.
The design was used by Indigenous peoples throughout North America and is considered the earliest style of projectile points in the New World.
"These were made by people 11,000 years ago," says curator Marla Taylor, her voice expressing reverence and wonder.
At the end of 2021, Taylor and his team reached a milestone related to these and other stone tools being stored in the 1901 brick building of Phillips Academy in Andover.
They unpacked the contents of the last of the 2,000 old large wooden drawers built into the building.
That's more than 500,000 unpacked artifacts, the majority of them of Native American origin from dig sites across the continent.
From mid-2017 to the end of 2021, Peabody staff – along with six volunteers and approximately 60 work-study students – touched, numbered, cataloged and preserved each of these objects in new, protective, acid-free archival boxes.
Wooden drawers were built over 100 years ago and have long since survived their use.
"People tend to think that stone tools and ceramics can't be damaged in storage," Taylor says. "But they can, especially if you don't have great climate control – which we don't.
"Stone tools can become dry and brittle, and edges can chip and crack," she says.
The four-year project was daunting, Taylor says, given the size of the collection.
The key was to stay on task and resist the temptation to get distracted by investigating individual objects, says John Bergman-McCool, who was hired specifically to help tackle the project.
Invariably, the crew encountered fascinating artifacts.
Bergman-McCool remembers items he thought were animal ribs. They were excavated at a Native American site in North Dakota in the early 1900s. Reviewing the record of the dig, he discovered an account by amateur archaeologist Ernst Steinbrueck indicating that they were bracelets made from wood that had been cut into strips and boiled in fat to enable shaping.
Occasionally, humor entered the work.
A field note that someone, presumably at a dig site, had written many years ago read like a commentary, speculating on the personality of the object's original owner.
"It was once a shell pendant that was a dandy's pride," the note read.
On your fingertips
Taylor says that, truth be told, many museums with large collections don't know the full scope of what they have and where to find each item.
Now, with the collection protected from deterioration, digitally identified and cataloged, searchable by keywords, the Peabody Institute can better fulfill its two primary purposes established at its founding – research and student education.
For years, the center had moved away from its student education, focusing more on its role as a place of archaeological research, according to the 2018 book "Glory, Trouble, and Renaissance at the Robert S. Peabody Museum of Archaeology."
When difficult financial decisions were under consideration nearly two decades ago, the academy considered closing the institute.
But subsequently, the museum reaffirmed its mission to continue the education of students. Now, the collection inventory and its simplified means of accessing objects will open up more possibilities for students to explore the subjects.
The museum regularly serves as a classroom, explains Emma Lavoie, administrative and collections assistant.
Natalya Baldyga, who teaches history at Phillips Academy, brings her students to the Peabody Institute several times a term.
Students in his world history class saw artifacts associated with the 1680 Pueblo revolt against Spanish rule in what is now New Mexico, Baldyga says.
"We used the artifacts not only to deepen students' understanding of how and why the Pueblo people revolted against Spanish rule, but also to introduce anthropological terms useful in understanding various strategies of peoples who react to and resist the colonization (acculturation, assimilation, syncretism and catachresis)", specifies the teacher.
Peabody resources help her teach students about the history of the Indigenous peoples of the Americas. History classes in the United States are always interested in learning more about the Native American Graves Protection and Repatriation Act, which protects the remains, cultural and biological, of Native Americans and their ancestors.
NAGPRA was signed into law in 1990 by President George HW Bush, a graduate of Phillips Academy (class of 1942).
The Peabody has repatriated thousands of artifacts through NAGPRA and, through the recent inventory, has identified thousands more artifacts that could be repatriated, Taylor said.
Art teacher Phillips Thayer Zaeder takes his ceramics classes at the Peabody every term.
The students examined Southwest Pueblo ceramics, noting the different shapes and surface designs and appreciating the technical skills and aesthetics of the work.
"Students were looking for inspiration for their own studio explorations," says Zaeder.
They also had the opportunity to reflect on time, tradition and regional expertise, he says.
Teachers find opportunities in collections for students to explore science, math, literature and other subjects.
Native American artifacts make up the vast majority of the collection, with the exception of items from Lucy Foster's farm found at Ballardvale in the 1950s. Foster was born into slavery in 1767 and was freed at age 16 when slavery ended been abolished in Massachusetts.
Some items date back to when European settlers arrived, including flints, ceramics and metal pendants.
Learn from the past
Peabody's complete collection exceeds 600,000 items.
Their number includes those on loan to museums, textiles kept upstairs at the Peabody, unprocessed collections that remain in excavator boxes, and the thousands of artifacts submitted for repatriation to Native Americans.
The collection began in 1901 with Robert Peabody's donation of 38,000 items and within two years grew to over 55,000, a product of gifts and shipments.
In the basement of the Peabody Institute is a large photograph of Warren Moorehead at an excavation site. He was fascinated by Native American artifacts. Moorehead, on behalf of Robert Peabody, amassed them through excavations and obtaining existing collections.
The institute is named after Peabody, an 1857 Phillips Academy alumnus who had a keen interest in Native American archeology and culture. Peabody's bequest led to the establishment of the Museum of Archeology in 1901.
Moorehead was the first curator of the Department of Archeology at Phillips Academy, and in 1924 he became the second director of what was then called the Robert S. Peabody Museum of Archaeology.
Taylor describes Moorehead as a complicated man who she has mixed feelings for.
For one thing, he didn't shy away from digging into burial mounds to find artifacts, and he was known as a wheel-dealer when it came to obtaining artifacts.
But Moorehead was also an advocate for Native Americans and drew attention to fraud and abuse perpetrated by logging and mining interests against Native Americans, including those on the White Earth Ojibwe reservation in northwest Minnesota.
In 1908, President Teddy Roosevelt appointed Moorehead to the Board of Indian Commissioners, which sought to reform the Indian Service and the Bureau of Indian Affairs.
Yet the massive looting of cemeteries is inexcusable, even if it was deemed acceptable at the time.
"When you're talking about ancestors and human remains, those shouldn't have been bothered," Taylor says. "We shouldn't have done that, and they don't belong on shelves in buildings separated from their cultural context and separated from their loved ones, so there's an atonement, in my opinion, that has to happen. for it."
Taylor hopes there will be opportunities for non-native and native archaeologists to engage in joint research or collaborative relationships that answer the questions the tribes want answered.
The large number of accessible articles cataloged could create more opportunities for researchers and Indigenous groups to collaborate, for more comprehensive conversations.