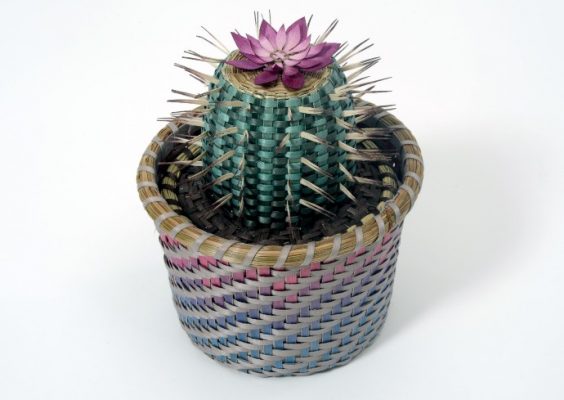 'Everyone Inspired: Haudenosaunee Art Across the Homelands' Now on Display at Syracuse University Art Museum
A new exhibit is now on display at the Syracuse University Art Museum, showcasing more than 52 contemporary works of art by Indigenous artists from the six Haudenosaunee nations of present-day New York.
The exhibition takes a closer look at the multiple sources of inspiration for contemporary Haudenosaunee art, including treatises, the natural world, community and family members, ancestors, oral histories, and connection to the land. .
"Collectively, the artwork in this exhibition breaks convention by challenging expected stereotypes and interrupting non-Haudenosaunee historical narratives," said Vanja Malloy, director and chief curator of the Syracuse University Art Museum. "As the artists and their works demonstrate in this exhibition, the continuing trajectory of Haudenosaunee art has existed since well before 1607 and the arrival of Europeans."
"Everyone Inspired: Haudenosaunee Art Across Home Countries" will give visitors a sense of the dynamic, strong, impactful, brilliant, dark and complex way that Haudenosaunee artists react, react and draw inspiration from their communities and of their stories; in doing so, this exhibition invites visitors to question their own relationships with indigenous histories, peoples and lands.
The exhibition is curated by Gwendolyn Saul, curator of ethnography at the New York State Museum in Albany. The works in the exhibit are from the New York State Museum's Contemporary Indigenous Art Collection, which consists of more than 150 original works of art by artists whose ancestral lands are in present-day New York. The majority of the artwork featured in "Each One Inspired: Haudenosaunee Art Across the Homelands" comes from new art acquisitions made over the past six years.
"The exhibit beautifully accentuates the aesthetic voices, creativity, resilience and endurance of the Haudenosaunee. It is important that these voices are honored at Syracuse University, which is on the unceded lands of the Onondaga Nation, "said Sascha Scott, associate professor of Native American and Native studies at the College of Arts and Sciences, specialist 19th century – and 20th century American art and North American Indian art.
Haudenosaunee is an alliance of indigenous nations united for several hundred years by complementary traditions, beliefs and cultural values. Sometimes referred to as the Iroquois Confederacy or Six Nations, the Haudenosaunee are made up of the Mohawk, Oneida, Onondaga, Cayuga, Seneca and Tuscarora nations.
Special events
Curator's visit: everyone, inspired
12:15 p.m., Thursday September 16
Join guest curator Gwendolyn Saul, Ph.D., for a tour of the new exhibition "Each One, Inspired: Haudenosaunee Art Across the Homeland".
Interview between artists and curators: each one, inspired
4 p.m., Thursday, October 7
Curator Gwendolyn Saul, Ph.D., will join artist Hayden Haynes (Seneca) for a discussion on the art of woodcarving, how Hayden became interested in this medium, and what inspires his work.
Reception of the exhibition
5 p.m. to 7 p.m., Thursday, October 7
Join the museum for a reception celebrating the Fall Exhibitions.
Artist talk: Ronnie-Leigh Goeman
12:15 p.m., Tuesday November 3
Artist exhibiting "Everyone, Inspired," Ronnie-Leigh Goeman (Onondaga) will deliver a lunchtime lecture on his works on display, show examples of his other basketry work and discuss various materials, including samples of the tree and grass used.
Check the museum's website for other public programs that will be added in the coming weeks. Members of the media can contact Emily Dittman, Associate Director of the Syracuse University Art Museum, at [email protected] for more information or to schedule a visit.