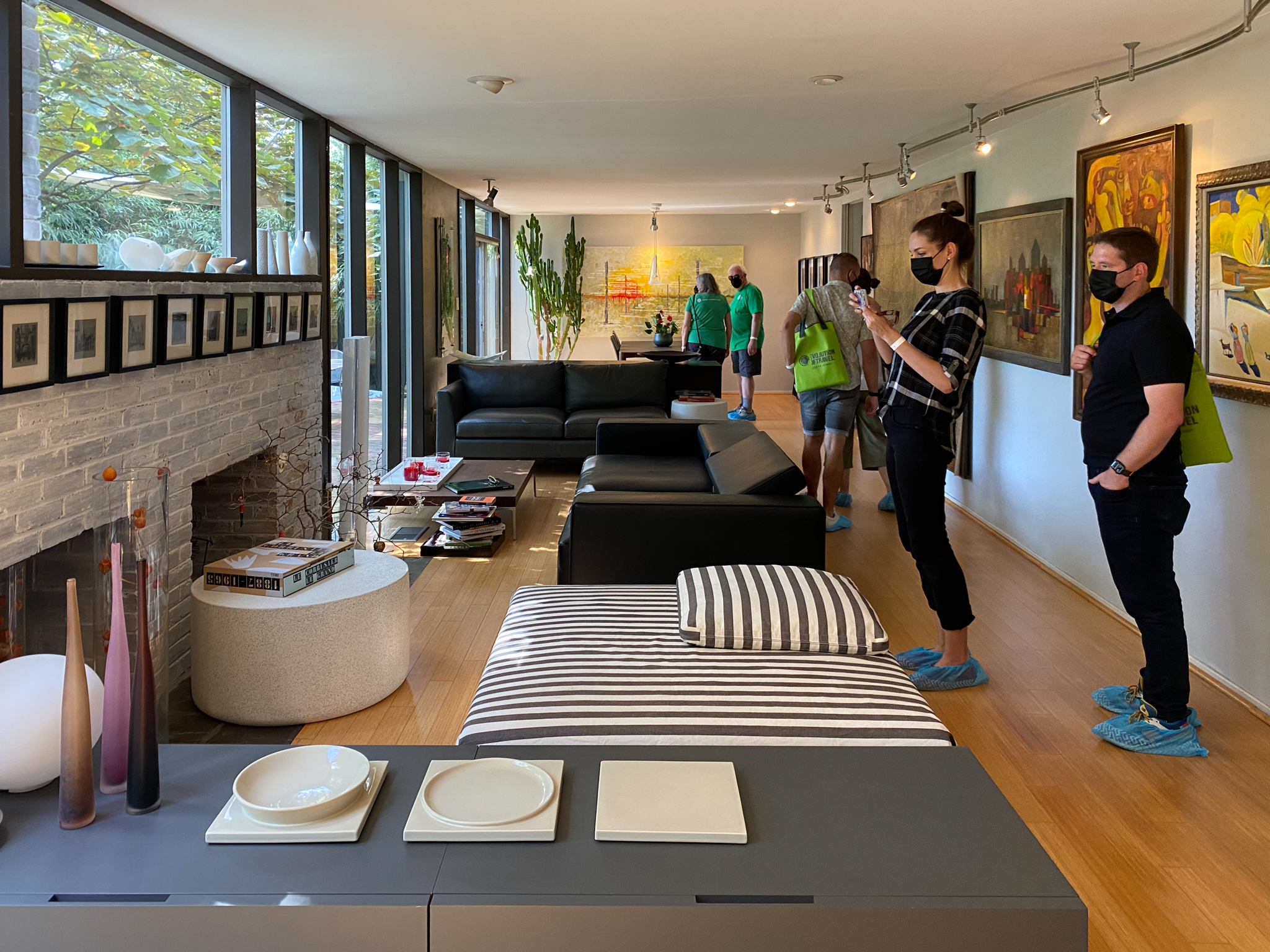 Captivating Scene from the Art & Architecture Command Center at Hollin Hills House & Garden Tour
Alexandria, VA – Continuing a long tradition interrupted by the pandemic last year, Hollin Hills held its biennial House & Garden tour on Saturday. Tickets sold out weeks ago, and the proceeds went to the Hollin Hills Civic Association.
Hollin Hills is an iconic mid-century modern enclave south of Old Town Alexandria. Between 1946 and 1971, architect Charles Goodman and developer Robert Davenport had a singular vision of a modern and daring approach to housing, with walls of windows and strong geometric lines. Today, Hollin Hills remains the only community in the entire DC metro area with all of the contemporary homes.
The 13-house tour focused on the four pillars of Mid-Century Modern design: architecture, art, interiors and landscape. These are the elements that define the unique style that has seen a huge increase in popularity in recent times. In several of the houses on tour, several renowned architects, artists and landscapers were present to discuss their work.
This year's tour included the famous Alcoa House, one of 24 such houses built in the 1950s. It is estimated that only 13 remain in the country. Alcoa had a vision to create homes that made extensive use of its aluminum, but the program turned out to be too expensive. The Aloca House, meticulously renovated by owners Lee and Peter Braun, is a mid-century modern delight. The house is breathtaking, from its original purple aluminum cladding and blue decorative panels to the lime green door and surrounding masonry.
As architecture critic Michael Sorkin once said, "Hollin Hills is one of the truly happy experiences of modernity…
For more information visit https://www.hollinhillsmodern.com/.